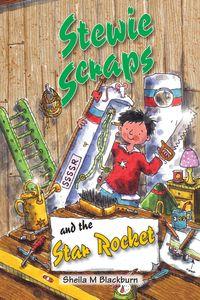 Stewie scraps and the star rocket
點閱:1
作者:Written by Sheila M Blackburn;illustrated by Leighton Noyes
出版年:c2011.
出版社:Brilliant Publications Andrews UK Limited
出版地:Bedfordshire, England [Luton, England]
格式:EPUB 流式
ISBN:9780857475282
分類:英文書&nbsp&nbsp
Stewie doesn't do sport. He hasn't got any time for sums or things like that, but he does like designing and making things. Come and join Stewie Scraps and his pet rat Bugzy in their extraordinary adventures as Stewie cleverly uses and adapts bit and pieces found in his dad's junk shop to make the ... Star Rocket. On Friday 5th November, Grandpa's local pub is holding a fireworks party for charity. 'You could come with me.' Grandpa suggests. Stewie thinks about it. In Art and Craft, Stewie has to think up his own firework and produces his Star Rocket design. Back at home it takes a couple of hours to find all the bits neded for his Super Star Rocket. Stewie drags the rocket out of the shed and gets ready for the launch.